Odds for both Trump and Biden remained flat with Trump at 1.91X, tied with the last three weeks for a five week high, and Biden at 2.26X, tied with last week for a 4 weeks high. Trump's implied odds against Biden saw a small drop from 54.2% to 54.1% (rounding). The disconnect between net approval rating (-7% at start of month, -10% current according to five thirty eight) and state polls (see below) on the one hand and the odds on the other hand continued.
Here are the full odds:
On the VP side, Val Demings continued to move up the odds a week after making her debut. She further raised her profile this week as she attacked Trump for trying to capitalize on Biden's comment about African American voters. She rose from 8th place and 25.0X to 4th place and 11.1X.
Here are the full odds: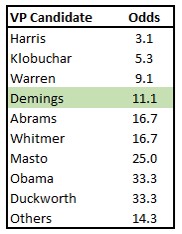 Only one poll from a swing state was released this week with Biden leading Trump in AZ by 7. Here is the full set of polls:
Tennessee Trump +17
Virginia Biden +12
Arizona Biden +7
Washington Biden +26
California Biden +28
Kentucky Trump +16
AZ only reinforced our call for that state to Biden. We are keeping our forecast at 330 Biden 208 Trump. Details by state below: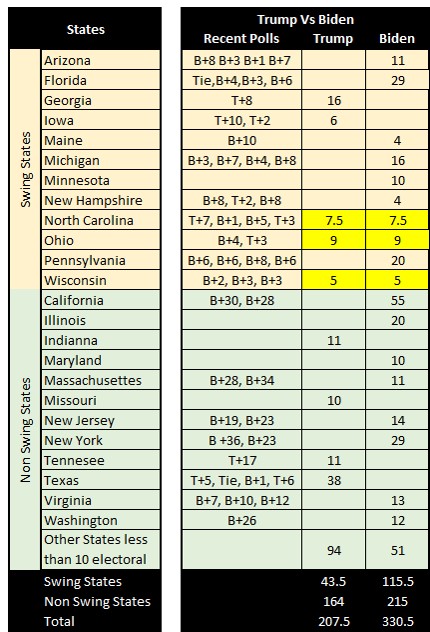 Follow us on Twitter for updates
Views – 6