Donald Trump's odds saw a small drop from last week's all time high of 1.72X to 1.75X, the second highest all time. This as the Senate started its Impeachment Trial. At the same time, the odds of the top 5 Democrats saw a small increase from 2.05X to 2.00X. This puts Trump's odds against those 5 top Democrats combined at 53.3%, down from last week's high of 54.3%.
The odds on the Democratic side are beginning to suggest it's a three person race for that nomination.
Bernie Sanders continued to be the hottest name, and seems to be peaking at the right time. His odds improved from 6.47X to 5.61X, a new all time high for him. This also allowed him to jump over Joe Biden for the highest odds on the Democratic side.
The other recent name that has been surging is Michael Bloomberg. It seems that even Democratic Party insiders are beginning to accept that his nomination is a real possibility. His odds jumped from 13.4X to 12.0X, a new high for him. He remained in 3rd place for the Democrats, a position he reached two weeks ago.
All other major Democratic nominees saw drops:
Biden from 5.6X to 5.9X, his lowest in 4 weeks
Warren from 20.5X to 23.8X, her lowest since May 2019
Buttigieg from 31.2X to 37.7X, his lowest since March 2019
Yang from 36.3X to 44.2X, his lowest since March 2019
Klobuchar from 82.7X to 99.8X, her lowest since November 2019
Here is a trend of the top Democratic candidates and the odds of the top 20: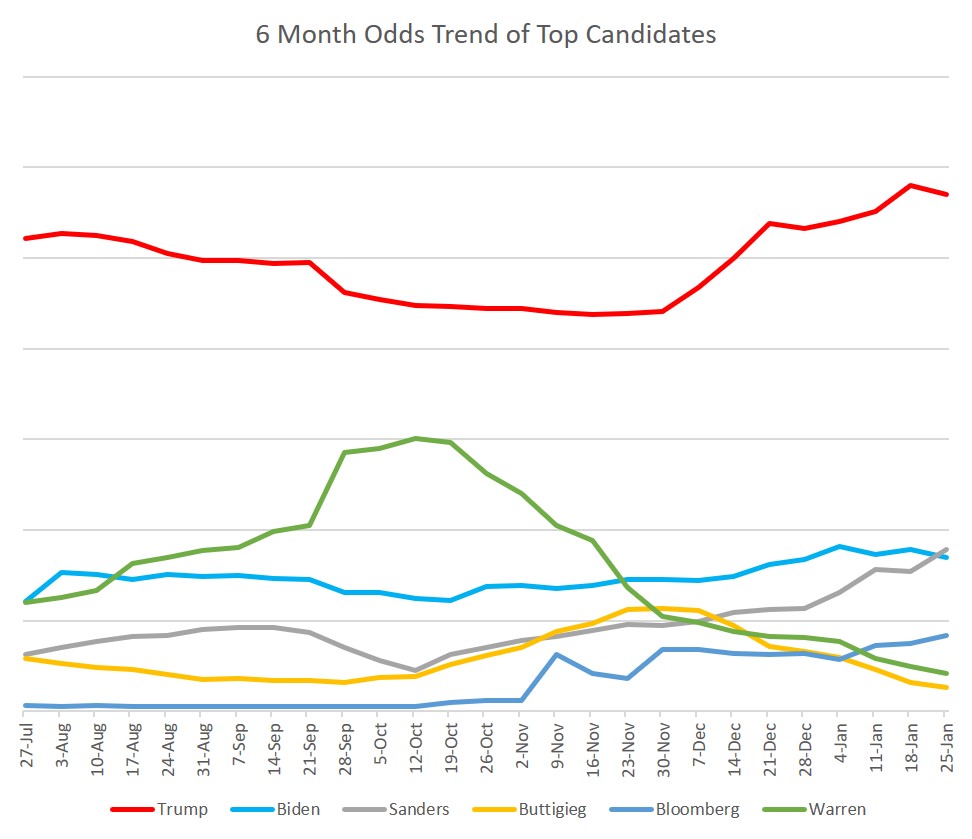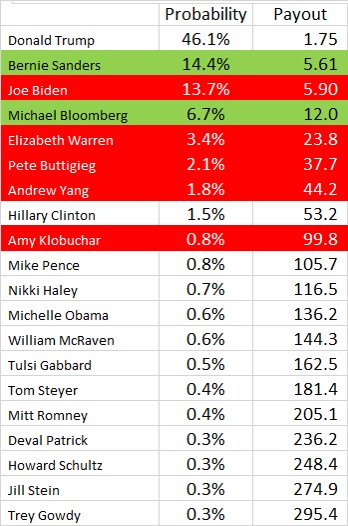 For updates follow us on Twitter
Views – 3