Joe Biden had more large wins on Super Tuesday II including winning Michigan. As a result, his odds have basically doubled for the second straight week. They have now gone from 8.70X two weeks ago, to 3.99X last week, to 2.12X this week. These are the highest odds for any Democrat this cycle.
Donald Trump's odds saw a sizable drop, possibly because polls show Biden is a more formidable opponent head to head than Sanders (more on that in a bit), or possibly of the impact of the Corona Virus. After being in a tight range of 1.59X to 1.60X the last five weeks, Trump's odds dropped to 1.97X, his lowest in three months. The combined odds for Biden and Sanders improved to 1.98X, just shy of Trump. That's an implied 50.2%/49.8% probability edge to Trump.
Sanders' disappointing finish on Tuesday dropped his odds from 12.0X to 32.0X. It's hard to believe just two weeks ago, he was at 3.99X. This is the lowest he has been in over 3 years (Jan 2017).
Mike Pence's odds more than doubled. Perhaps that's a hedge on Trump getting sick. Pence's visibility has also increased tremendously driven by Trump appointing him as the head of the Corona Virus task force. The odds are now at 29.3X, his highest in over a year. These odds actually put him ahead of Bernie Sanders.
There were other jumps in people not running:
Hillary Clinton jumped from 71.1X to 39.6X, her highest in 10 weeks
Nikki Haley jumped from 242.7X to 116.1X, her highest in 8 weeks
Michelle Obama jumped from 178.5X to 116.5X, her highest in 10 weeks.
Here are the full odds: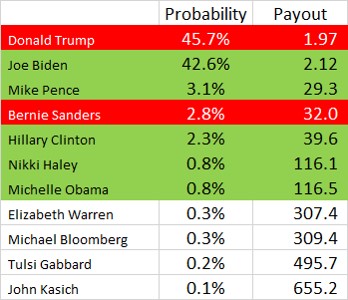 For the second week we are turning the focus to the state by state polls of Trump vs. Biden and Trump vs. Sanders. These are starting to show a big differentiation, perhaps due to Biden's momentum. In the last two weeks, polls have been done in 11 states. In 9 of those 11, Biden does better than Sanders against Trump. The other two are even. The biggest differences:
AZ, where two polls show Biden up by 8 pts and 6 pts, while they show Sanders ahead of Trump by 5 in one and Trump ahead by 7 in another.
Florida poll shows Trump up over Biden by 2 (statistical tie), but up over Sanders by 6
Pennsylvania Biden by 6 over Trump but Sanders only up by 2 (statistical tie)
The impact of those three states leads to a big victory for Biden over Trump (as we stand today) but basically a tossup for Sanders.
Here are the state by state projection based on the polls and the history of those states:
For updates follow us on Twitter
Views – 25