Donald Trump's odds stayed flat to last week at 2.24X, about 15% lower than the 1.90X high set beginning of August. His odds against the top 5 Democrats dropped to 43.9% from 44.8%. This as a result of the top 5 Democrats improving their combined odds from 1.81X to 1.75X.
The Democrats had their 4th debate and based on the odds here's the big winners:
Bernie Sanders: His odds jumped from last week's 22.1X to 16.0X. That is almost back to where he was prior to his heart attack three weeks ago (14.3X). On top of the debate, he also "reset" his campaign this week with his first campaign event since the heart attack on Saturday (10/19) which included an endorsement from AOC.
Pete Buttigieg: His odds jumped from 26.4X to 19.4X, which is the highest he has been in 11 weeks. On top of the debate, good third quarter fundraising numbers showed he has more money in the bank than Biden, and unlike Biden, he continues to add to it.
Amy Klobuchar: Her odds improved from 141.0X to 110.6X, her highest in 6 weeks. The NYT ranked her 4th as far as the debate with some believing this was her best debate.
Elizabeth Warren: Her odds did not see a jump, but then again when you are in the lead, winning is staying ahead. She did that. Since the debates began in June, she has moved from 12.1X to 3.4X, the top increase of anybody.
Here are how to odds moved this week for all who were involved in the debate: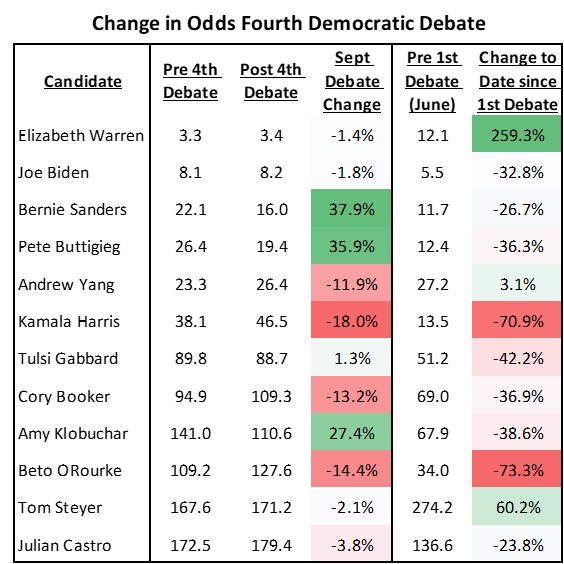 Hillary Clinton's streak of 9 straight weeks of improvements finally came to an end as she dropped from 25.2X to 31.5X. That is still the highest of any non candidate.
Mitt Romney saw another jump in odds as he stepped up his talk against Trump's Syria policy. The odds moved from 98.0X to 80.6X, his highest since January.
Michael Bloomberg's odds nearly doubled from 197.4X to 107.7X as reports came out he is looking into possibly entering if Biden falters. These are his highest odds since May.
Here are the odds of candidates with better than a 200 to 1 shot as well as a trend of the top candidates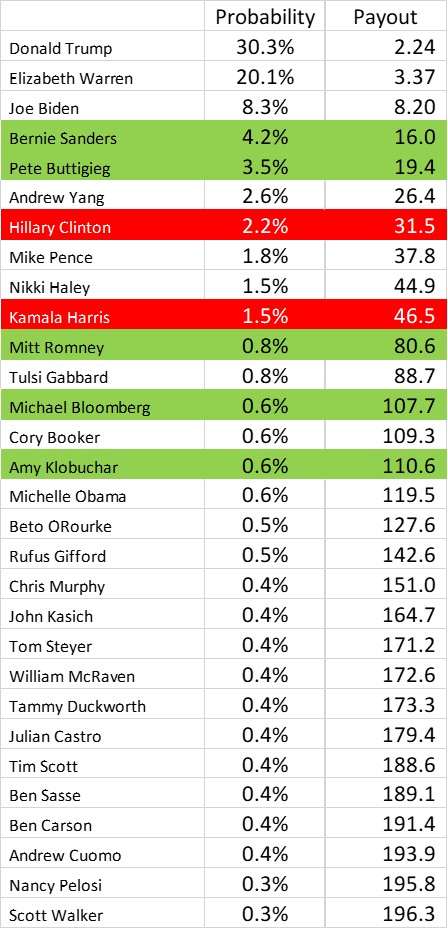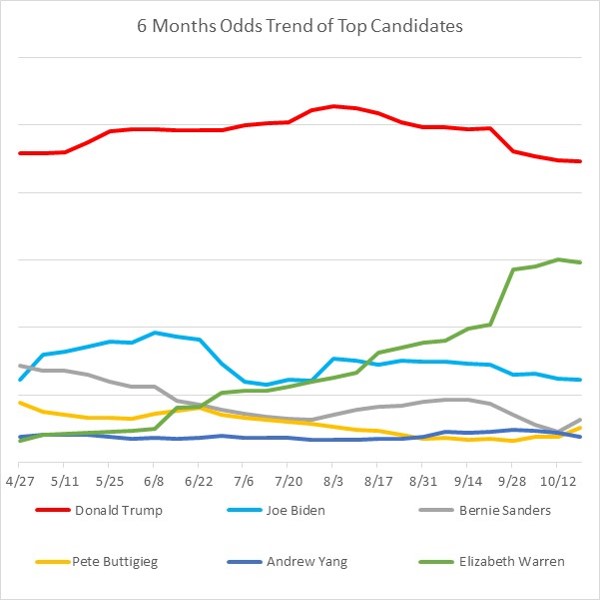 For Updates follow us on Twitter
Views – 87