Donald Trump's odds remained at their all time high of 1.59X this week. His odds vs. the top 5 Democrats dropped slightly however from 57.5% to 56.6% as the odds of the top 5 Democrats improved from 2.14X to 2.07X, a function of those outside the top 5 dropping in odds or dropping out all together (Yang, Patrick, Bennett).
For the second straight week the candidate making the most dramatic improvement near the top is Michael Bloomberg. His odds improved from 8.0X to 5.16X, his new all time high. This was enough for him to jump Bernie Sanders for second place overall. His rise had now led to some Twitter jabs between Bloomberg and Trump, a fellow longtime New Yorker. We won't truly know about his candidacy until Super Tuesday (3/3) which will hold the first primaries he is competing in.
Bernie Sanders odds saw a small dip from 5.30X to 5.67X. These are now his lowest odds in 4 weeks. Although he drops to third overall in the odds to be President, he is still in second place to become the Democratic candidate.
With Bloomberg asserting himself as the moderate candidate and Sanders as the progressive, the odds for the majority of the other leaders dropped:
Biden dropped from 12.7X to 22.3X, his lowest in over two years. He is still in 4th place overall. He needs a win in NV and SC to have any shot at the nomination.
Buttigieg dropped from 15.2X to 22.7X which is still higher than pre Iowa (45.7X). He is still in 5th place overall.
Warren dropped from 38.3X to 93.2X, her all time low. She dropped from 6th place to 8th place falling behind Amy Klobuchar and Hillary Clinton.
Amy Klobuchar rose from 10th place to 6th place as her odds improved from 122.7X to 43.9X. These are her highest odds in 11 months. She finished an impressive 3rd place in New Hampshire. Like many that have risen from outside the top 5 to the lead group, she will now need to hold up to the added scrutiny.
Here is a trend of the top candidates and the odds of the top 20: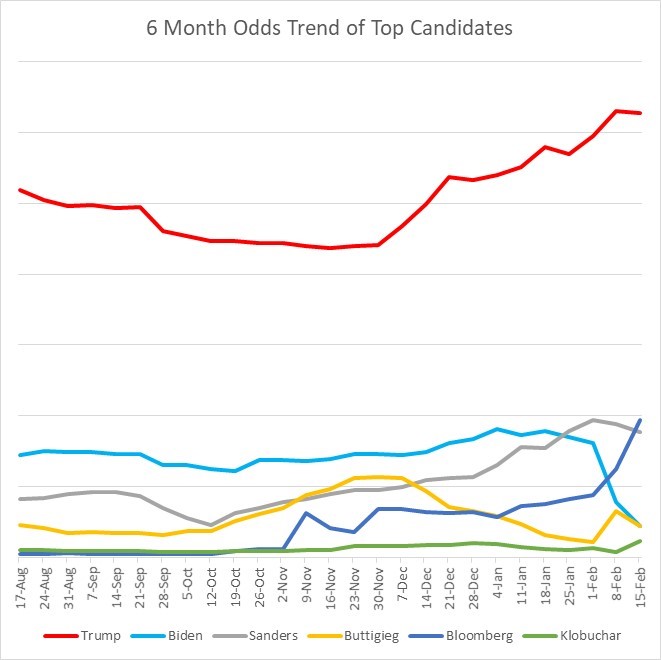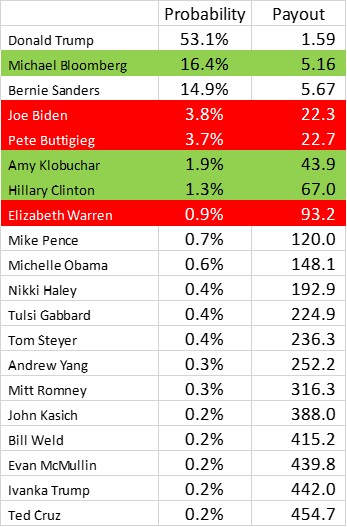 For updates follow us on Twitter
Views – 58