Donald Trump's odds continued a recent trend of slow declines. They dropped from 2.27X to 2.29X. They have either been flat or have dropped for eight straight weeks when the odds were at 2.02X. Despite the drop, Trump's odds against the top five Democrats actually increased to 44.1% from 43.4%, as their combined odds dropped from 1.75X to 1.80X. This a result of increases in candidates outside of the top five.
Elizabeth Warren continued her cold streak of now 5 weeks. Her odds dropped from 4.89X to 5.32X. This is her lowest since the beginning of September. Her odds are still 35% higher than Biden's, although they were more than double just 5 weeks ago.
The two big winners from Warren's drop continue to be Pete Buttigieg and Bernie Sanders. Buttigieg improved from 11.4X to 10.3X. This is yet another high, and he has improved for seven straight weeks. He was at 31.1X at the start of the streak, and has nearly tripled his odds over that span. One poll this week showed Buttigieg to be at the top of Iowa.
Bernie Sanders improved from 12.1X to 11.2X. He has now improved the last 5 weeks (since his heart attack) from 22.1X (doubling his odds). These are his highest odds in nine weeks.
There was some big movement outside of the top 5 Democrats this week:
One week after skyrocketing, Michael Bloomberg's odds saw a pullback, dropping from 16.1X to 23.8X. This is still way above where he was two weeks ago at 88.4X. He still has not made a decision on whether he is running, but that is likely days away according to Axios.
Hillary Clinton's odds improved from 29.2X to 26.0X as she refuses to rule out running.
Deval Patrick made it official and announced he is running. His odds shot up from 260.7X to 112.6X, his highest in over 6 months, putting him in 15th overall, putting him just behind Klobuchar and Harris but ahead of Booker and Castro. It will be interesting to see who he hurts, if he starts gaining traction. One the one hand he is more moderate and may pull from a Buttigieg or Bloomberg. On the other hand he is well known in the northeast which may take primary votes from the likes of Warren.
Below are the odds of candidates with better than a 200 to 1 shot as well as the trend of the top candidates: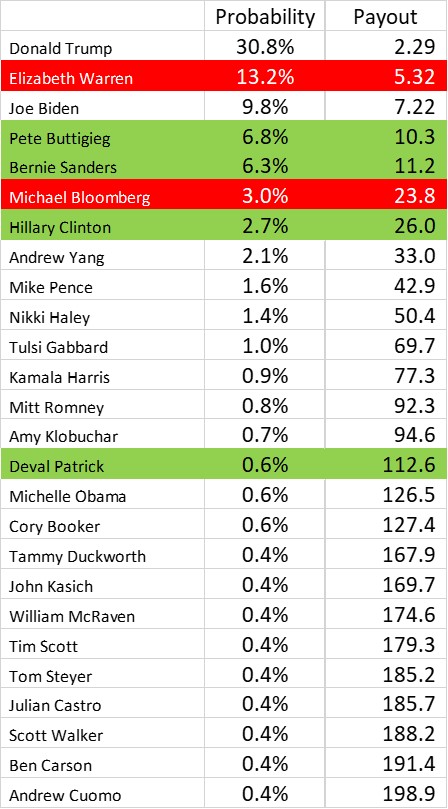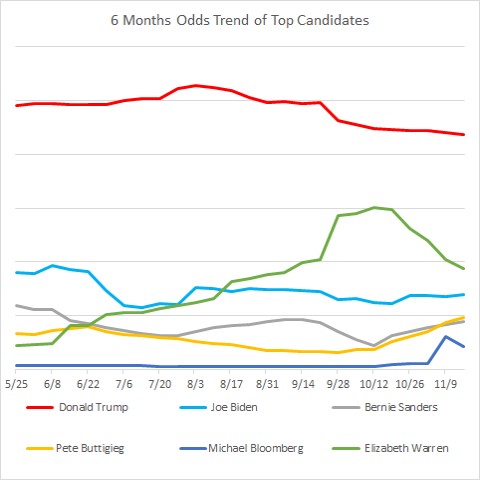 For updates follow me on Twitter
Views – 97