Donald Trump's odds saw a slight decline, dropping from 2.25X to 2.27X. These are his lowest odds in over 6 months (since mid April). He is still more than twice as high as Warren, his closest competitor. His odds against the top 5 Democrats saw a more dramatic drop (from 45.3% to 44.7%) as their combined odds improved from 1.86X to 1.75X.
Elizabeth Warren continued her recent trend of drops. She was down from 4.17X to 4.89X. She has now dropped for four straight weeks and is at an 8 weeks low. Although there isn't any direct news that would hurt her candidacy, more moderate alternatives like Buttigieg and Bloomberg are eating into her grip on the Democratic nomination.
Pete Buttigieg seems to have taken the torch from Warren in recent weeks. It's no coincidence that his hot streak started at the same time as the end of Warren's. His odds have improved from last week's 14.3X to 11.4X. He has nearly tripled his odds from 7 weeks ago (31.1X). Buttigieg has been gaining ground in Iowa especially at the expense of Biden. He jumped Sanders in the odds this week, despite the improvement from Sanders (12.8X to 12.1X).
Michael Bloomberg has not officially entered, but he did file for the Alabama primary (Alabama has an early deadline). He is considering jumping in as he sees Biden's chances dropping. There is a lot of speculation on a potential path to the nomination. Even without his formal entry, Bloomberg's odds jumped to take him from 12th place to 6th place overall as they moved from 88.4X to 16.1X, his all time high.
Here are the odds for candidates with a better than 250X to 1 shot and a trend of the top candidates: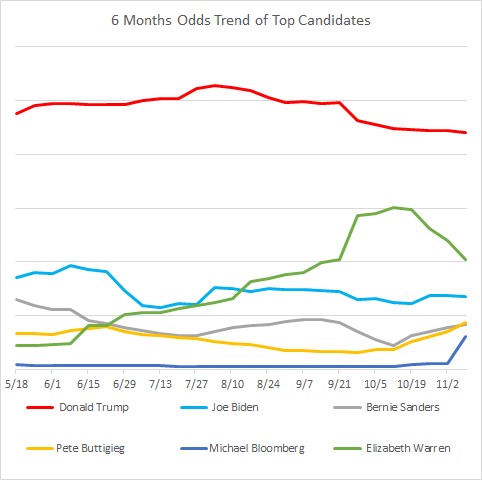 Follow us on Twitter for updates
Views – 93