Donald Trump's odds stayed flat to last week at 2.25X. They have been very resilient the last 4 weeks showing no impact from a possible impeachment. The odds were at 2.24X three weeks ago. Trump's odds vs. the top 5 Democrats improved slightly from 44.1% to 44.2% as their combined odds dropped from 1.77X to 1.78X driven by Elizabeth Warren.
Warren's odds dropped for a third straight week. Her odds on the week came in at 4.17X, down from last week's 3.82X and 3.32X in mid October. These are her lowest odds in 6 weeks. Her odds are following the same trend as other front-runners before her. She is the fifth Democratic leader in just 2019 (Kamala Harris twice, Biden, and Sanders)
The two movers up this week are Bernie Sanders and Pete Buttigieg.
Sanders improved from 14.3X to 12.8X. His odds have rebounded from the heart attack lows of 22.1X four weeks ago. Sanders seems to have the highest credibility among young liberals, and AOC campaigning in Iowa for him will only reinforce that.
Pete Buttigieg seems to be benefiting with his pitch as the only Democratic centrist with any kind of money left. Biden might be leading, but he may be in a cash crunch. Buttigieg's odds improved from 16.4X to 14.3X. These are his best odds since June. He has now improved in 5 straight weeks.
Two once promising candidates continued to see their odds drop.
Beto O'Rourke dropped out on Friday, and his odds tanked moving from 138X to 212X. O'Rourke peaked around Christmas of 2018 when his odds were around 7.7X. He was briefly the Democratic leader for three weeks in December 2018.
Kamala Harris also once held the Democratic lead, and has seen her odds drop. Her odds dropped from 57.7X to 61.9X as word came out she had cut her staff to conserve cash. This is yet another odds low for her. She led the Democratic field as recently as end of July.
Here are the odds for all candidates with better than 250X odds and the trend of the top candidates: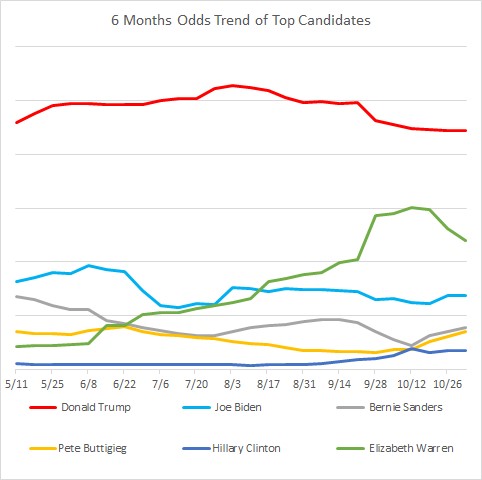 For updates follow us on Twitter
Views – 55