Hillary Clinton's odds continued to improve.  She reached a new high at 66.9%.  Previously her high was at 66.6% in January.  Just two months ago she was at only 49.8%.
Donald Trump also improved his odds post his NY victory.  He was up to 18.4% from 14.8%.  This is the highest he has been in the last 4 weeks.
Ted Cruz jumped over Bernie Sanders for third place despite dropping by 2.1% to 5.6%.  This is his lowest mark in three weeks.
The big loser on the week was Bernie Sanders who dropped from 7.7% to 3.5%.  He peaked two weeks ago at 9.5%.  The 3.5% is his lowest since March.
John Kasich also dropped from 2.9% to 2.3%.  He has now dropped for three straight weeks.  He is at his lowest point since the end of February (prior to Rubio dropping out).
Here are the full odds: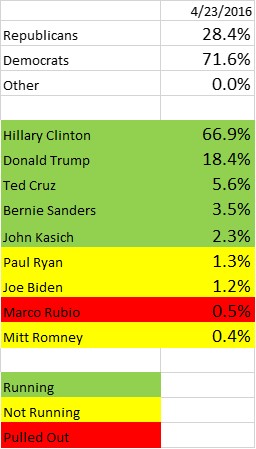 Link to the trend for the top 10 candidates
For updates follow me @2016ElectOdds
Views – 677