Hillary Clinton strengthened her grip on the nomination post Super Tuesday.  Her odds are now at 57%, up from 50%.
Part of this gain came at the expense of Bernie Sanders.  Sanders  dropped from 6.4% to 3.5%.  He has now decreased for three straight week and is at his lowest point since the beginning of the year.
Donald Trump continued to be in second place, but dropped slightly coming in at 23.9% down from 25.3%.  These odds are as of Saturday, and may reflect not only his wins on Super Tuesday, but the attacks coming after from the Republican party establishment.
The biggest move on the Republican side is the drop for Marco Rubio who moved from 11.9% to 6%.  This is the lowest he has been since the end of September. He remains third overall.
The drops for Rubio meant that Ted Cruz and John Kasich were a more likely alternative to Trump than before.  Cruz's odds improved from 1.2% to 2.6%.  Kasich improved from 1.1% to 2.5%.  There is a disconnect between Kasich's odds, and the fact that he has not won any primaries.  At this point he is no where near Rubio or Cruz from a delegate perspective, but his odds are very close to Cruz's with some oddsmakers putting him ahead.
Ben Carson could not see a way forward for his campaign and pulled out of the campaign.  His moment was in late October and early November when he was 6th overall and 4th among Republicans.
There is still no word on whether Michael Bloomberg will run, but the window is beginning to close.  His odds dropped from 2.25% (and ahead of Cruz and Kasich) to 1.8% which is 7th place, behind all remaining candidates.
Mitt Romney and Paul Ryan got a jump in odds. Romney from 0.4% to 0.8% and Ryan from 0.3% to 0.8% as the unpredictability of how the primaries and elections increased.
Here are the full odds: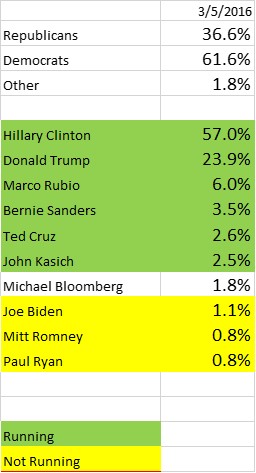 Link to the trend for the top 10 candidates
For updates follow me @2016ElectOdds
Views – 658