Trump's odds dropped from 1.88X to 1.92X, his lowest odds in four weeks. The odds are finally starting to catch up to the recent drops in his favorability: dropped from 44.0% last week to 43.5% this week. They were at a high of 45.8% three weeks ago when they started dropping.
Joe Biden's odds improved from 2.19X to 2.13X, his highest since the middle of March. His relative odds against Trump improved from 46.2% to 47.3%, a 4 week high.
The biggest move interestingly was in Michelle Obama's odds as they improved from 113.2X to 94.2X, her highest since December 2019. There was numerous speculation of her being a possible VP candidate, including in an interview with Biden's wife.
Here are the full odds: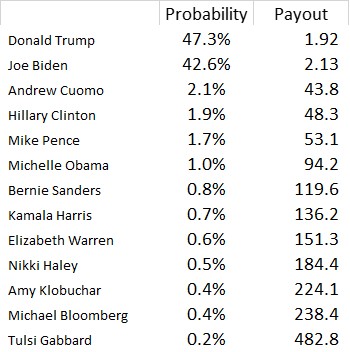 The speculation is growing on the possible VP candidates for Biden. The odds would suggest there's a 50% chance of either Harris or Klobuchar, and 50% of all other candidates.
Here are the full odds: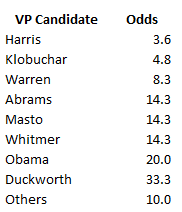 One the state polling side, Possible swing state polls released this week included:
Poll showing Tie in Fla
Poll showing Biden +4 in Fla
Poll showing Biden +3 in Fla
Poll showing Biden +8 in Mich
Poll showing Biden +8 in Penn
Poll showing Biden +6 in Penn
Poll showing Trump +5 in Tex
We're still keeping Florida as a tossup. The polls reinforced the view on Mich and Penn going to Biden.
As a result projections remained the same as last week of 316 Biden to 222 Trump. Here are the details: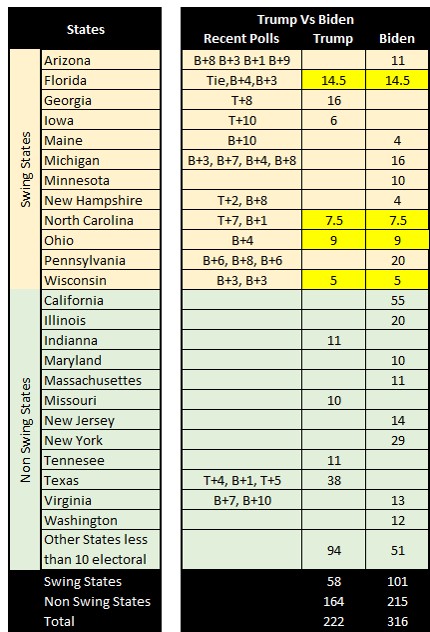 Follow us on Twitter for updates
Views – 64