Trump's Odds jumped to an all-time high this week with the House passing the Articles of Impeachment. This may be due to the fact that no unexpected revelations came out, and now Trump can look to having the process move to a "homecourt" game in the Senate. The odds rose from 2.00X to 1.86X. Previous high was 1.90X in August 2019. That was reached after Mueller made his testimony to Congress. Trump's odds vs. the top 5 Democrats improved from 49.8% to 52.3% as their collective odds dropped from 1.99X to 2.04X.
Speaking of the Democrats, the day after the Articles of Impeachment were handed down, the Democrats, held their 6th debate with the smallest field so far of 7 candidates. Based on surveys before and after the debate, Joe Biden seemed to come away the winner. The odds seem to reflect this as he had the biggest improvement in odds from 6.7X to 6.2X, his best odds since June.
According to the same survey, Pete Buttigieg did the worst. Every debate seems to have the hot candidate in the cross-hairs of the rest of the field. This time Buttigieg took the incoming fire, and he managed to be the only one who's net favorability fell, according to the survey. He also had the biggest drop in odds from 10.6X to 14.0X. This dropped him from 4th place to 5th place overall, as Warren, whose odds also slipped from 11.4X to 12.2X, managed to pass him by. These are the lowest odds Buttigieg has had in 7 weeks.
Some other interesting movements:
Amy Klobuchar had a good debate and her odds jumped from 58.3X to 55.3X, her best odds since May. This allowed her to jump into 10th place overall.
Elizabeth Warren's odds decreased for the 10th straight week. They dropped this week from 11.4X to 12.2X. This is the lowest she's been since June.
The improvement in Trump odds meant other Republicans saw a big drop. Mike Pence dropped from 44.5X to 54.5X, his highest since the end of September.
Nikki Haley was the other Republican to see a drop from 52.5X to 71.4X, which is her lowest since the same week as Pence.
Tulsi Gabbard, who did not qualify for the debate, saw her odds drop from 75.1X to 94.6X. She was the only Democrat not to vote for the impeachment. She voted "Present".
Here is an odds scoreboard of how the odds changed due to the debate: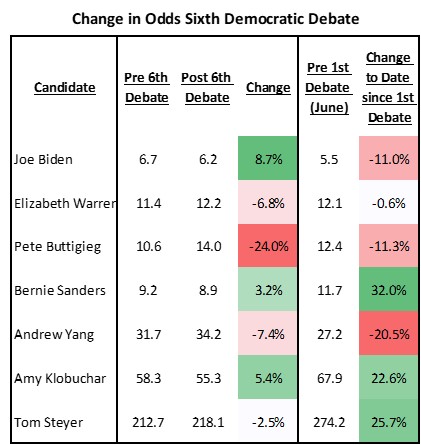 A trend of the top 5 candidates: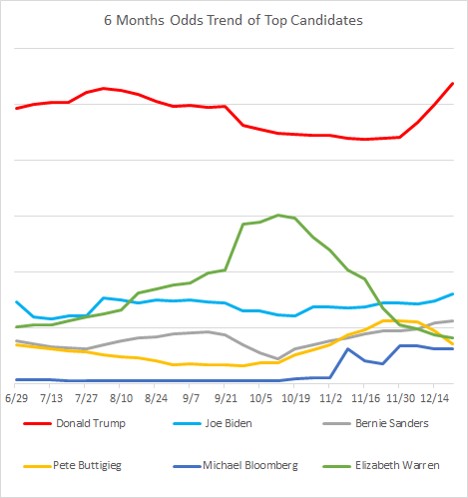 Odds of all candidates with a better than 200 to 1 shot: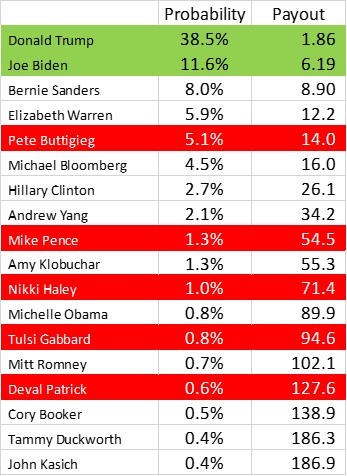 For updates follow us on Twitter
Views – 67