Another week of little change for Trump's reelection odds, which given the impeachment inquiry headlines, is rather remarkable. The odds are currently at 2.25X, slightly below last week's 2.24X. Taking a step back, these are his lowest odds since mid April, but much better than his cycle low of 3.46X in September 2017. The odds for the top 5 Democrats remained flat at 1.77X, meaning Trump's odds against them dropped slightly from 44.2% to 44.1%.
The big move in odds that started a bit last week, and grew this week, seems to be a reversal of a long positive trend for Warren. Her odds had seen continuous improvement for 6 months, but have now been lower for two straight weeks. This week, the odds dropped from 3.37X to 3.82X, her lowest in 5 weeks. It seems much of the fire that Biden has been taking has now turned towards Warren given her front-runner status.
Speaking of Biden, a new poll released this week showed him well ahead of the field. It seems he is picking up voters as the secondary candidates decline. His odds improved from 8.20X to 7.28X, his highest in 5 weeks.
Bernie Sanders continued to improve as he touts AOC's endorsement. His odds improved from 16.0X to 14.3X, his best in 4 weeks.
Big business seems to be warming up to Buttigieg. His odds jumped from 19.4X to 16.4X. These are his best odds in over 100 days.
Tulsi Gabbard has had an eventful week , including taking on Clinton, announcing she is not running for reelection for Congress, and going on Fox News to discuss her displeasure with closed door Democratic hearings. Her odds shot up from 88.7X to 58.9X, a 50% increase and her highest in 9 weeks. She is basically now tied with once Democratic favorite and now fallen star Kamala Harris who dropped from 46.5X to 57.7X. This is another all time low for Harris.
Here are the odds for candidates with better than a 200 to 1 shot as well as a trend of the leaders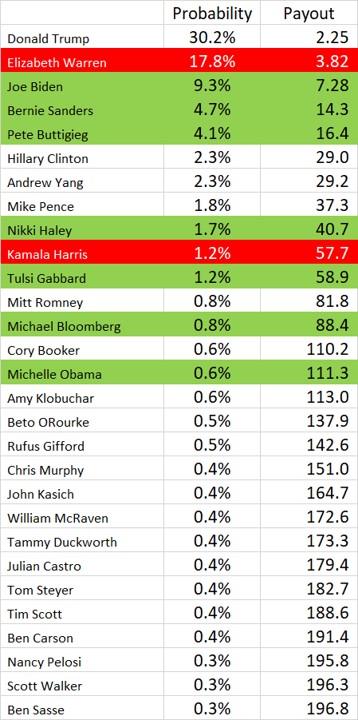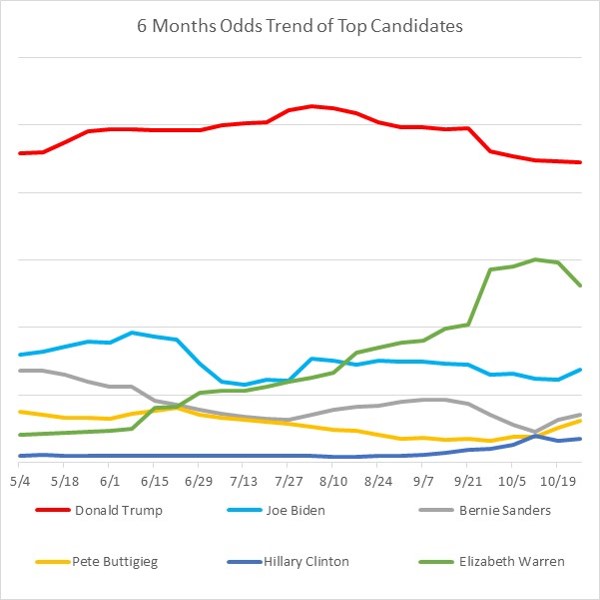 For updates follow us on Twitter
Views – 90