The big news this week was Ted Cruz and John Kasich dropping out, giving the Republican nomination to Donald Trump.
Trump not only picked up the previous odds of Cruz (3.7%) and Kasich (1.3%), but also some (1.7%) from Hillary Clinton.  His odds improved from 21.1% to 28.2%, an all time high for him.  His previous high was 25.3% at the end of February.
Hillary Clinton dropped from 68.4% to 66.7%.  She still maintains over a 40% lead.
Clinton's lead over Trump reflects the national polls where Clinton wins out in 5 of the most 6 recent polls (taken between 4/11 and 5/1) with an average gap of 6.5%.
Bernie Sanders, the only other remaining candidate, held steady at 2.7%.  Prior to that he had declined for three straight weeks.
There are three more "candidates" in the betting field:
Joe Biden improved from 1.1% to 1.3%
Paul Ryan dropped from 1% to 0.7%
Mitt Romney held steady at 0.4%
Here are the full odds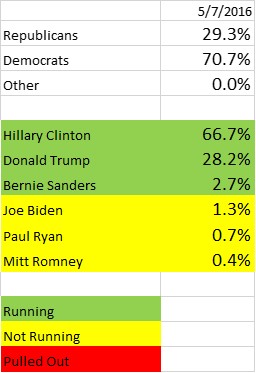 Link to the trend for the top 10 candidates
For updates follow me @2016ElectOdds
Views – 628