Hillary Clinton's continued to lead at 63.2%, flat to the prior week.
Her closest competitor continues to be Donald Trump.  He had a slight drop from 23.4% to 23%.
The biggest mover of the week was Bernie Sanders who improved from 3.6% to 4.8%.  The what enough to get him past the dropping John Kasich for third overall.
John Kasich had the biggest drop from 3.8% to 2.8%. That was enough to have him fall from 3rd overall to 5th overall.
Ted Cruz had a slight improvement from 3.0% to 3.3%.  That was enough to have him pass John Kasich for 4th.
Here are the full odds: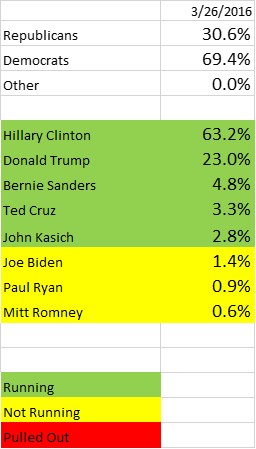 Link to the trend for the top 10 candidates
For updates follow me @2016ElectOdds
Views – 655