Hillary Clinton continued to lead, although her odds plummeted from 59.7% to 49.8%.  Most of the drop was gained by  Donald Trump.   This is the lowest Clinton has been since October and the smallest lead she has had the entire race.
With big wins in South Carolina and Nevada, Donald Trump improves from 13.6% to 25.3%.  This is by far the highest any Republican candidate has been.
Marco Rubio also improved from 9.8% to 11.9% as he has become the clear alternative to Trump.  He has improved the last two weeks, but is still not close to his high of 19.7% three weeks ago.
Bernie Sanders continues in fourth at 6.4% down from 7.5%.  This is the lowest he has been in the last three weeks.
Ted Cruz drops from 5th place to seventh place falling behind to undeclared candidates in Michael Bloomberg and Joe Biden. He drops from 3.0% to 1.2%.  This is his lowest point in 18 weeks.
John Kasich improved slightly from 0.9% to 1.1%.
Jeb Bush ended his campaign.  He was in 7th place last week and was the early Republican favorite peaking at 14% in August of 2015.
Here are the full odds: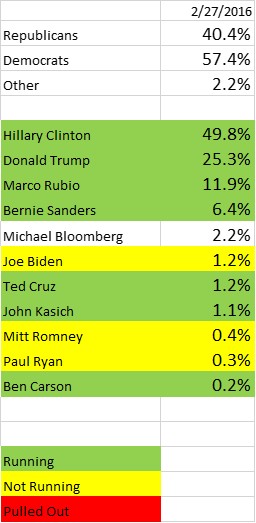 Link to the trend for the top 10 candidates
For updates follow me @2016ElectOdds
Views – 668