Even with Nevada polls showing a tossup in a state thought to have been a Hillary Clinton lock, the odds improved for Clinton from 58.8% to 59.7%.  That is her second straight improvement and the highest she has been in a month.
Donald Trump was steady in second, down slightly from 14.0% to 13.8% as the one day Pope controversy seems to have had no impact.
Marco Rubio was the biggest mover of the week up to 3rd place at 9.8%.  This gain came largely at the expense of Jeb Bush.
Bush was down from 3.7% to 1.7%, dropping him from 5th to 7th place as he falls behind both Ted Cruz and Michael Bloomberg.
Ted Cruz continues to be the most interesting as his results in the polls are much higher than the odds he gets.   He drops 0.6% to 3.0%.
Bernie Sanders comes in 4th place at 7.5%.  He has been in the 6%-8% range for the last six weeks.
Michael Bloomberg came in 6th place.  He has been in the top 7 the last four weeks as he considers the possibility of running.
Here are the full odds: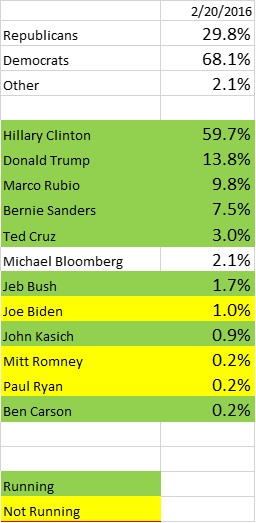 Link to the trend for the top 10 candidates
For updates follow me @2016ElectOdds
Views – 745