The biggest moves in the New Hampshire Primary were by Marco Rubio and Donald Trump.
Marco Rubio was coming in on a high post Iowa.  Having finished 3rd and seen as the mainstream candidate.  In one week his odds rose from 8.2% to 19.7% and he was in second place.  That all came crashing down this week as he dropped all the way down to 6.7% as he finished 5th behind other mainstream candidates likes Kasich and Bush.  He drops from having the highest Republican odds to fourth overall.  The 6.7% is his lowest since end of September.
Donald Trump had the mirror image.  After dropping last week from 16.3% to 6.9%, he jump back to 14% and claims back his position as the odds on favorite for the Republican nomination.
The two other big movers were Jeb Bush and John Kasich.
Bush jumped from 1.4% to 3.7% and fifth place overall. He is at his highest odds since the end of October.
By finishing second, Kasich breathed some life into his campaign. He jumped from 0.4% to 1.3% which allowed him to jump non-candidates Joe Biden and Mitt Romney for 8th place.  This is the highest he has been since mid October.
Ted Cruz's third place finish increased his odds slightly from 3.4% to 3.6% but that wasn't enough to stop Bush from jumping over him.
As a result of the primary Carly Fiorina and Chris Christie dropped out.
On the Democratic side, Sanders' big win didn't result in a big  movement in the odds.  Hillary Clinton continued to have a big lead.  She improved 1% to 58.8%. Bernie Sanders also improved 1% to 7.7%.  One can argue Bernie Sanders move is more impressive since it's off a 6.7% base.  He is a the highest percentage he has been in the entire race.
Michael Bloomberg continued to gain momentum.  He jumped 1% to 2.3%. That is the highest he has been.  His seventh place standing is higher than Kasich.
Here are the full odds: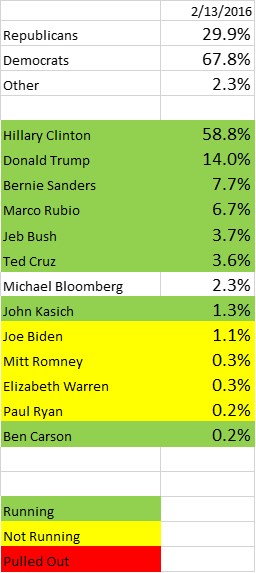 Link to the trend for the top 10 candidates
For updates follow me @2016ElectOdds
Views – 678